THE SUGARMAN SAYS

Without deviation progress is not possible
To the casual cricket fan, it may have seemed odd that Simon Jones limped off the field at Old Trafford today to a standing ovation. Beaten by cramp, his face contorted in pain, he was helped off clutching his leg.

However, the more astute armchair pundit will know precisely why Jones deserved every single second of his heroic ovation. Rewind to November 2002 and the same Simon Jones was carried off on a stretcher from Australia's 'Gabba' Cricket ground.
An innocuous looking piece of fielding resulted in Jones sustaining a horrific rupture of the anterior cruciate ligaments in his right knee. 20,000 Aussie fans mercilessly chanted 'you're just a soft pommie bastard' and Jones tour was over. To compound English misery further, Alex Tudor was called up as cover.
Although England may not have won today, tomorrow's newspaper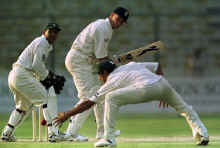 rhetoric about Jones and the state of English Cricket in general can be summed up in one word, progress.

If you look in a dictionary you'll find the word progress defined in various ways.

'The act of moving forward towards a goal', 'a movement forward', 'gradual improvement or growth or development' and my favorite definition of all is that progress simply means to 'develop in a positive way'.

Sometimes progress can be startling. Frighteningly fast paced. When Bill Clinton entered office in 1992 there were 35 officially registered websites on the planet. When he left in 2000 there were 20 Million. THAT represents progress.

In 1991 Chelsea football club signed Joe Allon from Hartlepool for £200,000. He was touted as the new hero for the Stamford bridge faithful having scored 28 goals in the old 4th division.

This week Chelsea will complete the signing of Michael Essien for around £28 million and probably stick him on the bench. THAT represents progress.