Looking back over this and other years seems to be a traditional way of whiling away a few hours, and I'm no different in that respect. The trouble is that my greatest punting disasters always seem to get trotted out at this time of year, so before someone else does it, I've decided to do the dirty deed myself.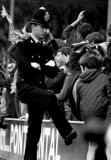 Life seems to have a custard pie waiting to plop in my face at the most embarrassing times, and the tale that always gets an airing around here is the time I disappeared on a bender and ended up a guest of the local constabulary.

Many years ago when the adjective 'mighty' preceded the name of Hamilton Accies, a magnificent triumph over Glasgow Rangers had been won in the Scottish Cup, and yours truly embarked on a boozathon of mega proportions with a few dozen other true believers.

After 48 hours the participating revellers had been whittled down to the usual suspects of me and Psycho Wullie. Rational thinking was not high on our list of abilities after two days guzzling electric soup, and our plan to replay the game inside the stadium was not one of our better calls.

Nevertheless, once the decision had been made there was no going back, and we climbed over the outer wall and entered the scene of our teams greatest triumph.

A rolled up sweater served as our ball, and Psycho and I played out every second of the game with both of us getting on the score sheet just before plod arrived.

Wullie's reaction to their interruption of our lap of honour made sure that no excuses or pleas for leniency would be of any use. A sliding tackle on the sergeant leading the posse of coppers ended our chances of talking our way out of the mess, and we were locked up in Hamilton nick for the remainder of the night.

Bailed next morning to appear in front of the local beak at a future date, we did the only sensible thing we could and paid a visit to One Eyed Harry the local money-lender and headed for the nearest pub to prepare our defence.

After a few sherbets things didn't seem so bad, and although we were undoubtedly in the wrong for being inside the stadium, no real damage had been done and the prospects of a heavy sentence were inconclusive.
That was the magic word that sealed my fate. Inconclusive.