There's no question that an unseen benefactor watches over all punters as we strive to plunder the wallets of the camel coated brigade. This entity is known as the Grand PooBah Of Punters and guides all those who trust in 'His' powers.

Gamblers are a superstitious breed and with good reason. We all have a tale of a resounding victory that manifested itself against seemingly impossible odds, and equally so, we know only too well the sickening feeling when a strongly fancied punt crashed in a ball of flames defying all reason and logic.

On many occasions we have stood baffled by an incredible turn of events that have turned the form book upside down and wondered what unseen forces were at work.

Faith in the Grand PooBah brings light where once there was dark, bestows knowledge to replace ignorance, and gifts wisdom and understanding to those who have little.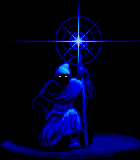 Gaze upon the image and what you see determines your belief. See an angel, and the force is truly with you.
See something sinister and the bookies have plundered not only your cash, but your belief in the spiritual nature of humanity and the forces of good.
Cast out the demon friends, trust in the PooBah and all will be well.

Many obstacles shall be placed in your path on your journey to enlightenment. Bookies will try to seduce you with promises of great wealth and happiness, and they will dazzle your senses with flashing lights and special offers in their places of business.

Resist with all of your might, for along that road lies an eternal curse of poverty.

When your spirit is weak and resistance is low, and your heart is filled with doubt, remember the times when an unexpected turn of events rescued you from certain doom and disaster, and know then that the PooBah was truly with you, watching over you and protecting you from the evil that is the bookmakers.

Throw aside the shackles that the bookies would imprison you with. Free your mind to the enlightenment the PooBah freely offers and go forth to a new way of punting.

Never again shall ye fear the might of the bookies for ye shall know that in your hour of need the Grand PooBah of Punters will be watching over you.

May the Omnipotent and benevolent Grand PooBah of Punters smile kindly upon us all.